You know how to sell your products
—

do your partners? And do they even bother?

When's the last time you checked in with your channel partners? Or sent them updated collateral? Or dug into their sales process to learn how they're pitching your products?

If you're letting your reseller and distribution programs wither on the vine from lack of attention, you're leaving revenue on the table. 

The four goals for sales channel partners as outlined by Gartner® are more deals, bigger deals, faster deals, and margin expansion. And who couldn't use that right now (or anytime really)?
From Startup Lift: Motivate Channel Partners to Sell by Engaging Their Sales Force as a Tech CEO. Published 15 February 2023.
But whether you're a team of one or twenty, effectively enabling your channel partners to sell your products and achieving these goals is a complex problem that requires constant maintenance.
To untangle some of the complexity, we checked in with analysts, in-house experts, and our own customers and identified the six biggest and most common obstacles channel sales managers face in their roles. Find them, and their solutions, below.
See also: Channel partner enablement: What it is, plus the best platform to make it work
Problem #1 Winning mindshare 
Your products are just one page in your channel partners' cramped catalog. How do you get them to focus on you with so many vendors competing for their attention?
And it's not just about being on their minds, it's about staying top of mind so your product is not just recommended — it's recommended more than your competitors'.
It's a tall order.
This obstacle is in the #1 spot for a reason. Solve this and you've won. But solving this requires addressing the rest of the roadblocks on this list.
Solution
In a word: incentives.
Make it clear what's in it for them to prioritize your products over the others in their portfolio.
Do your brand, marketing, and/or products bring in bigger deals or faster close rates? Higher quality customers? Are you providing inventory they can't get elsewhere? Are you offering co-marketing opportunities? Do you provide some extra incentives like bonuses or perks?
Many Bigtincan clients, Sony Playstation for example, use gamification to great success when training partners and distributors, offering prizes and additional benefits to the highest performers. But consider your audience — gamification works great for "game-minded" companies like Sony.
There may be a better incentive or motivator for each of your different partners.
Don't be the squeaky wheel.
If you're easy to work with and you make your products easy to sell, your resellers will naturally gravitate towards you over your competitors. That means building a great relationship and providing training, marketing, and sales resources upfront.
Avoid channel conflict by choosing the right partners. 
Channel conflict occurs when partners compete with each other or with your business for sales. This can happen if your partners sell similar products or if they use different pricing strategies. 
When selecting channel partners, consider factors such as partner expertise, market coverage, customer base, and alignment with your business goals and values.
Then, set clear boundaries and agreements with your partners. This can include creating exclusive territories or assigning specific product lines to each partner. Again, providing incentives for partners to work together, such as bonuses for cross-selling, can also help align your interests.
Address the rest of these:
Problem #2 Communication 
Too often, channel partners get put on the back burner and are forced to reach out to get any news or new material. This sets the partnership up for failure as it's poor relationship building and apathy works both ways — that means resellers put your products on the back burner, too.
Solution
Reach out first, and often.
Set a regular cadence to meet with each of your partners to address their questions and concerns, share updates with them, and build a long-term relationship.
Provide white glove service.
Treat your partners just like you would your customers. Provide that extra level of care (which will then be passed down to customers). 
One way to do this is to set up a branded and secure portal that has everything they need to sell without coming to you for every request. This is key for large distributors and high profile partners who bring in a large chunk of your business.
Bigtincan portal for manufacturing teams
Problem #3 Lack of control
One of the main setbacks to channel partner sales is that you lose control over the sales process. 
Your partners may not nail the pitch for your products or provide the same level of customer service that your in-house reps would if selling directly — especially if you're not enabling them with training on messaging or updated collateral.
Solution
Establish clear expectations and guidelines.
Provide regular training on your products (can't say it enough), as well as a sales playbook, customer-facing content with approved messaging, and set targets and incentives for your partners. 
And don't forget to stay in touch. Regular communication and monitoring of partner performance helps you make sure your products are being represented accurately.
Get more visibility into their process to know when and how to set in (see point #4).
Problem #4 Lack of visibility 
Measuring your channel partners' performance and understanding how they discuss your brand and products is essential for optimizing marketing efforts and improving partner relationships. 
It's also mutually beneficial to have insight into which messages and content are working (or not working) for customers, so your in-house team knows what to provide to partners for better results.
But you're not going to get the data you want or need from partners manually on a regular basis. It's time and labor intensive and could be biased or inaccurate if based on anecdotal evidence.
Solution
Implement a CRM or PRM (partner relationship management) system to get automated reporting and analytics for channel activity. 
Short of planting someone at every partner location to monitor every interaction and scrape data, the only way you're going to get the information you need for optimal performance is through software.
Implementing a partner enablement system that all partners can access improves visibility and collaboration. Most sales enablement systems with content management and analytics capabilities are primed for this use case. 
They allow you to see platform, training, and content adoption, selling behaviors, what assets reps use the most or don't use at all, how often they're logging in or looking at content, plus metrics such as sales volume, customer satisfaction, and partner engagement. This can even  include regular reporting on customer feedback and inventory levels. 
This data also signals when it's time for an outreach or content update to keep up that communication and stay top of mind.
In How to Enable Partners as a Tech CEO: Partner Portal or PRM System? (January 2022). Gartner notes that, "It's imperative for technology and service providers to collect data from the portal to categorize key partner requests, such as:
■ Who is downloading materials?
■ How often are they (sales, marketing, technical) visiting the portal?
■ Which product types and versions are partners reviewing?
■ What internal or external content is the partner consuming?
■ Who is getting trained?
■ Who is getting certified?
■ Are partner salespeople updating their sales presentations?"
See also: The 3 stages of sales content analytics: Working with correlation insights
Problem #5 Lack of sales training and content
Partner reps don't live, eat, and breathe your messaging the way in-house reps do. They need onboarding, continuous training, and a steady stream of supportive sales collateral like product datasheets, slides, 3D models, and more.
Solution
Provide exceptional training and support.
By offering comprehensive and on-demand product training and marketing support, you can help your partners become experts in your products and effectively promote them to customers.
Just-in-time microlearning in the form of short training videos lets reps brush up on your products anytime they need to, even right before a meeting or during a coffee break. In the same vein, AI tools that summarize written information also let reps grab the main points of any piece of content in case they don't have time to review the whole thing or have done so already.
For best results, serve marketing content alongside related training so resellers have the right materials as well as the knowledge of how to leverage them in customer interactions.
Download The Blueprint for Better Sales Onboarding to dig into more onboarding strategies and best practices.
Make that training and sales content easy to access anytime and anywhere (especially when offline).
Keep in mind that to be effective, your partner enablement system needs to have mobile and offline access to serve global, distributed reps who may be at a desk at home or in an office, on a tablet in a warehouse or a shopping center, or on a smartphone on the road to their next meeting.
Enabling partners means enabling a diverse workforce.
Personalization/customization capabilities 
Personalization and customization capabilities are key. Resellers all have very distinct use cases to speak to, so they need the freedom to customize materials for specific customers — but it can't take up too much of their time, either. When introducing a PRM or partner enablement tool, make sure it allows for easy content customization.
Related: How a major beverage company optimized & scaled their digital content management for a global network of resellers
Problem #6 Lack of internal resources to effectively enable partners
Odds are, your teams are overtaxed. 
If you don't have dedicated channel marketing or enablement teams, your enablement managers (if you have any at all) and corporate marketers are focused on training in-house reps, building brand awareness, and bringing in leads. They often don't have the bandwidth to handle requests to create targeted content for partners, too. So as a channel or partner manager, you'll likely have difficulty getting their attention.
Solution
Use a partner portal to assess and prioritize partner resource needs.
Gartner recommends you use "partner portals to streamline requests and reduce workloads." 
If you have a system to manage your relationship with your partners you can set up a formal yet easy process for them to communicate any new content needs or simply track them through engagement analytics as detailed earlier.
You can also reduce, reuse, recycle content your marketing and enablement teams are already using by making some quick customizations yourself and adding them to the portal for partners to view. Edit a few lines on a few slides or case studies, switch out or add a logo, cut a few sections from a datasheet, grab a recording of a product demo or webinar, and ship it off for partner use.
Remember, partners won't necessarily need the same variety and volume of content your in-house teams need.
From Gartner: "Sales enablement content (both sales-rep-facing and customer-facing) — for example, a 'how to sell' guide or sales training webinar — is arguably more important than technical training material for partners."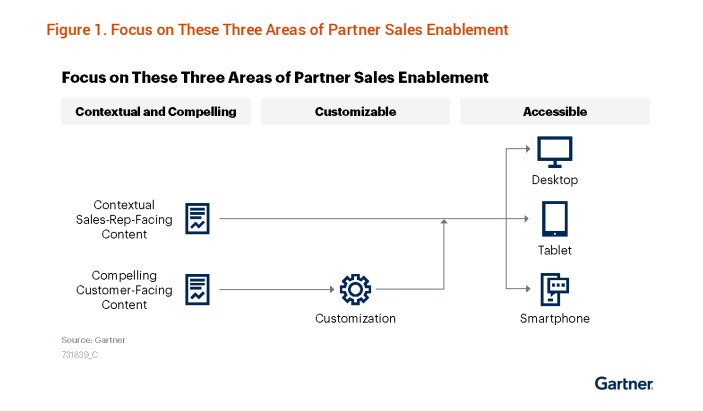 From Three Essential Elements of Effective Partner Sales Enablement. Published 14 February 2022.
Takeaways
To get the most out of your partner programs, don't wait for them to reach out to you with questions or requests for updated product information and sales content.
Winning and maintaining mindshare with product resellers and distributors requires a comprehensive approach that includes training and support, incentives and rewards, exclusive programs and benefits, and strong relationships through regular communication. 
By implementing these strategies, businesses can build a loyal network of partners who are committed to promoting their products and driving sales.
Get a closer look at how Bigtincan improves your channel sales without added stress on your internal teams.
GARTNER is a registered trademark and service mark of Gartner, Inc. and/or its affiliates in the
U.S. and internationally and is used herein with permission. All rights reserved.